B.Sc. Chemistry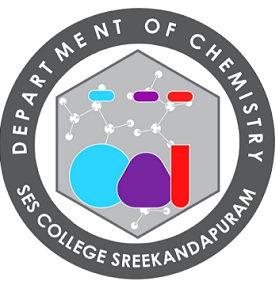 The Department of Chemistry was established in the year 1982 with the objective of promoting undergraduate teaching in Chemistry. B.Sc. Chemistry course started in 1993 and provides the opportunity for an undergraduate student to obtain a thorough fundamental knowledge of all fields of chemistry. The department currently offers B.Sc. Chemistry degree programme with physics and mathematics as complementary subjects. The three year course syllabus is constantly upgraded to incorporate current advances in chemistry. The course consists of eleven chemistry core theory papers with four practical papers, a project and industrial visit, eight complementary theory papers and one practical paper, one elective theory paper and one open course with a total credit of 120. Many of our students were included in renowned research groups worldwide and completed their Ph.D./Post-Doc research and established their excellent independent research career.
Vision
Equip the students with an in-depth knowledge of the subject and keeping abreast with the state-of-the-art developments.
Mission
Make a meaningful contribution to society by providing quality education and service opportunities.
Encourage students to think critically and innovatively.
Facilities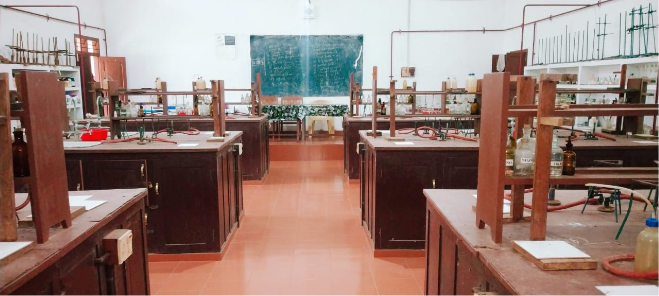 Department of Chemistry has an undergraduate laboratory for core chemistry practicals and undergraduate research. The equipments in the laboratory includes, digital pH meter, colorimeter, soil and water analysis kit, electronic balance, hot air oven, distillation apparatus, centrifuge, micropipettes, refrigerator and other general laboratory equipments. Department has been promoting undergraduate research for final year students and research projects are carried out by team of students and evaluated by the University. Department has been equipped with separate department library to increase the reading capacity of our students and faculties since 2018. Also, Department has separate computer and internet facilities.
Achievements
We have excellent academic record over the years. Many of our students are listed as toppers in the University results. Ms. Anaitha P.C. secured 5th position in Kannur University Examination, March 2020. Mr. Alap K.V. listed as one of the toppers with 94.3% in the Kannur University Examination, 2018. Our department alumni have secured top ranks in UGC, CSIR-NET examinations. Many of our distinguished alumni are faculty members in various institutes. Mrs. Salija P.V., our prominent member of the alumni has been serving as faculty in this department since 2018. Our department has won college union arts fest champion's trophy for continuous three years from 2017-19. Our students received 3rd prize with A grade in margamkali and malayalam skit in the Kannur University Arts Fest, 2018 and 2020 respectively. Mr. Philip Anex Ron represented India for the world junior & sub-junior men's powerlifting championship held in South Africa in 2018 and bagged 5th position.
Ms. Anaitha P.C.
secured 5 th position(94.22%)
in Kannur University Examination,March 2020.

Ms. Aparna Mohan
secured 90.30%
in Kannur University Examination,March 2019.

Mr. Alap K.V.
secured 94.30%
in Kannur University Examination,March 2018.
Activity photos